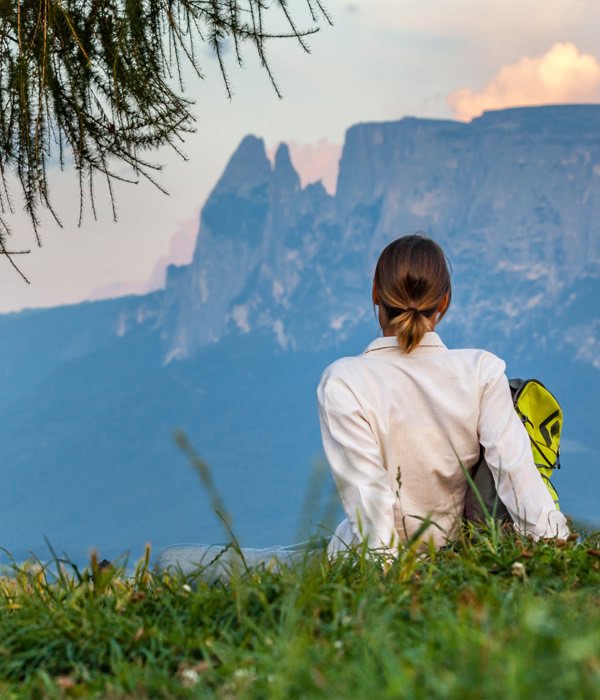 Tips & Equipment
We'll be delighted to advise you! At reception, we'll give you all the essential and information and handy tips you could possibly need for your hikes, from the weather forecast to a detailed description of your route. You are welcome to rent backpacks, trekking poles and rain protection from us. And naturally, apples are provided free of charge.
Hiking with Sepp
We offer our guests guided hiking tours on the mountain pastures over the Rittner Horn, hikes through blossoming meadows of rhododendron and gentian, excursions to the Ice-Age earth pyramids or through the vineyards down to the Provincial capital of Bolzano. Sepp Hohenegger will be delighted to take you along and show you the most beautiful hiking routes, if possible on unmarked trails! No matter whether you're in training or not – our hikes guarantee unforgettable outings for all levels.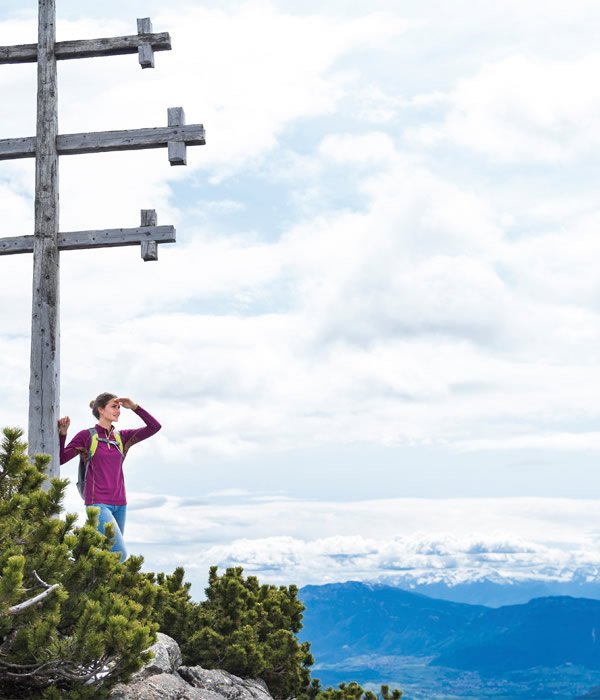 Hiking Programme
The sunny plateau of Ritten is a hiking paradise for families and foodies. Every week the Ritten Tourism Association organises a new, comprehensive hiking programme: The choice is vast, and range from the sunny slopes in the valley to the heady heights of the Rittner Horn. Trained hiking guides lead you through the mountains of South Tyrol and show you the most beautiful ascents.
IVV (International Federation of Popular Sports): On the Ritten Loop Route, (six to eight stretches over 120 or 160 km), you can also mark up kilometres for your IVV Record Book.
The Panoramic View
The entire Alpine chain opens out in front of your eyes in a 360° panoramic view sweeping from the Ötztal, Stubai and Zillertal Alps all the way to the Marmolata, Queen of the Dolomites, over the Schlern massif, the Rosengarten and the Latemar, down to the Bozen valley basin. Beyond the massive Mendel ridge, you can also see the Brenta group and the first part of the Ortles group.

The Hiking Routes
From the valley station in Pemmern, the cable car will take you up to the Schwarzseespitze at 2,070 m above sea level, where you can set out on the 45-minute panoramic loop-route or head up the 2,260 m Rittner Horn. Countless walking trails lead out from here – some to the Reinswald in the Sarn Valley, to the Latzfons Cross or the Königsangerspitze. If you've got enough energy left, you can return to the hotel in Lichtenstern on foot via Gißmann and the Oberinner Wiesen meadows.
more
Sunrise
Greet the day with a spectacular panoramic view over the mountains at daybreak. You can either walk from Pemmern to the Schwarzseespitze or make the most of the special summer offer: On a number of days in summer, you can take the cable car from Pemmern to the Schwarzseespitze where you can feast your eyes on over 40 three-thousanders by the light of the dawn. And there will be a hearty breakfast waiting for you at the Schwarzseespitze. (Price: Adults €25, Children €15).
more